The Opening Ceremony for the Osaka-Mahidol University International Office
On Tuesday, March 12, 2019, the opening ceremony for the Osaka-Mahidol University International Office which is one of the international office was held at Multimedia Hall, the Center of Medical Innovation and Translational Research of Osaka University Hospital.
Mahidol University of Kingdom in Thailand and Osaka University have been working together for more than 45 years and has been still continuing a wide variety of exchange activities primarily in joint research. The signing ceremony was done for the Osaka University ASEAN Campus at Mahidol University in the past.
We, the Center for Global Health (CGH), have been conducting joint symposium once a year to aim further interaction and collaboration with Ramathibodi Hospital, Mahidol University.
【Go Global 13! Joint Symposium ~Let's Share Each Activity~ Conducting Multi Regional Clinical Trials(September 4th, 2018)】
https://www.gcrso.med.osaka-u.ac.jp/news/%e9%96%8b%e5%82%ac%e3%83%ac%e3%83%9d%e3%83%bc%e3%83%88%ef%bc%9ago-global-13-%ef%bd%9elets-share-each-activity%ef%bd%9e%e3%80%80conducting-multi-regional-clinical-trials/
There were 14 participants from Mahidol University including President Banchong Mahaisavariya and Vice President Nopraenue Sajjarax Dhirathiti, and also Consul Panuwat Prommanon from the Royal Thai Consulate-General, Osaka. From our center, Director Ken Nakata, Vice Director Daisaku Nakatani and Dr. Chisa Tabata attended.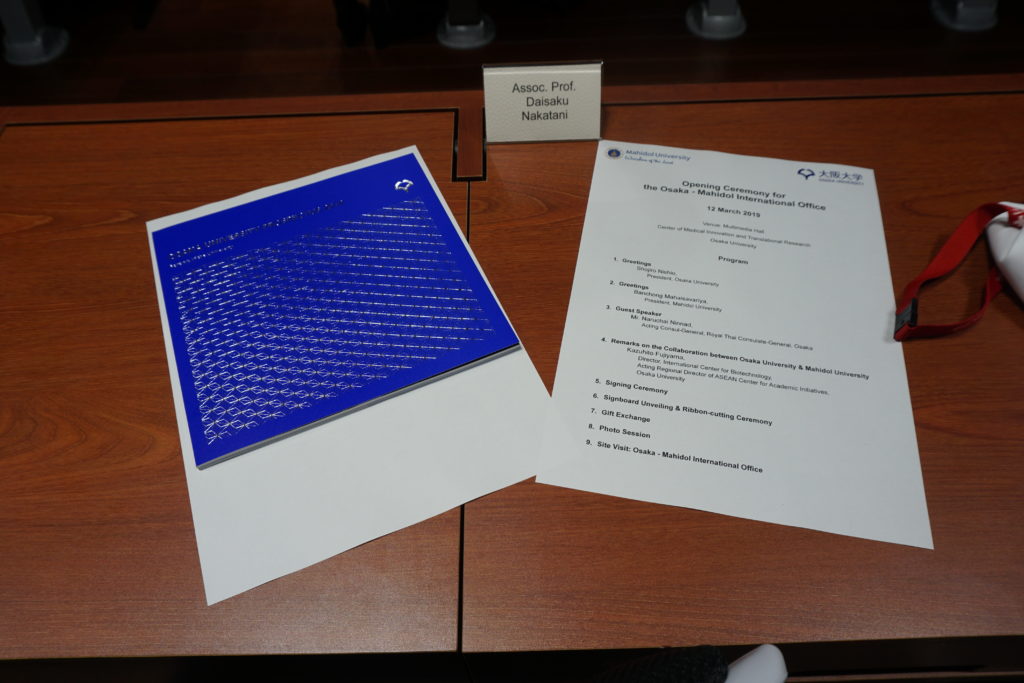 After the ceremony, we had a short discussion with Dr. Suchin of Ramathibodi Hospital on the theme of "Joint Symposium Go Global!!14" which will be scheduled this autumn in Bangkok, Thailand. It was a great honor for CGH member to meet with Professors from Thailand who have good engagement at our campus.
We hope this ceremony will have further great collaboration in Multi Regional Clinical Trial and research education.