(4th Seminar Report) Academia Clinical Development Seminar
How to Develop Research Seeds from Academia
★ Focusing on DTx - A New Modality - ★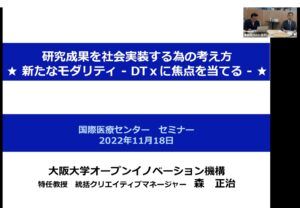 On November 18, 2022, we held the 4th Academia Clinical Development Seminar online, inviting Prof. Masaharu Mori from Institute for Open Innovation, Osaka University.
He had worked for Shionogi, Novartis, and other companies in the international business field, and currently serves as the general creative manager of the Institute for Open Innovation, Osaka University.
In this seminar, based on his wide range of experience, he spoke about "How to Develop Research Seeds from Academia".
First of all, he explained the Institute for Open Innovation, which plans and proposes collaborative research leading to innovative businesses, strategically strengthens intellectual property, and supports start-ups originating from Osaka University.
Second of all, he mentioned the intellectual property and contract achievements of Osaka University and other universities.
He said that Osaka University submits an average of 455 invention notifications per year, and that the number of inventions in FY2019 was dominated by engineering, with just over 50%, and bio-life sciences of 42%, while in terms of actual technology transfer income, bio-life sciences accounted for a large share, about 80%.
He also explained the importance of intellectual property in the social implementation of academic research.
He said that more than 80% of the inventions derived at Osaka University resulted in the conclusion of a license agreement within four years after the initial application was filed, meaning that many inventions were concluded in the "right to patent" stage after the patent application was filed and before the patent right was granted. Intellectual property with good research results would enhance the potential for social implementation, he said.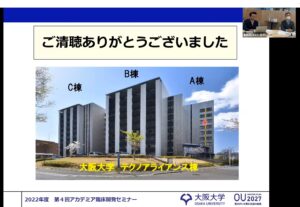 In this seminar, he gave a useful lecture on how to develop research seeds from academia, and the seminar ended successfully with a lively Q&A session and many participants.
The next seminar will be held on Friday, January 20, 2023, with Dr. Masanori Kawasaki from Otsuka Pharmaceutical Co., Ltd.
We look forward to seeing you at the next meeting.