(2nd Seminar Report) Academia Clinical Development Seminar
"Present Analysis and Perspectives of PDP* in Global Health:
Possibility of leveraging business of the Japanese health care industry"
* PDP:Product Development Partnership
On August 5, 2022, we held the 2nd Academia Clinical Development Seminar online, inviting Prof. Hiroki Nakatani who is an Invited Professor at Osaka University Post Graduate School of Medicine and a Visiting Professor at Keio University School of Medicine. He has over 40 years of extensive experience in public health and global health, and serves in various organizations as Member of the Executive Board, World Health Organization (WHO); Minister's Advisor on International Affairs, Ministry of Health, Labour and Welfare; Chair, Board of Directors, Global Health Innovative Technology Fund.
Based on his extensive experience, he gave a lecture on Present Analysis and Perspectives of PDP in Global Health.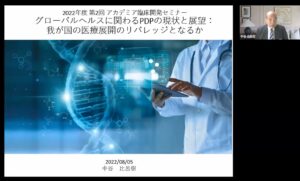 First of all, he explained that the main agenda of the WHO General Assembly held in May 2022 discussed resolutions related to Ukraine, assessment of health crisis management, and ensuring sustainable finance, and decided on policies to address various diversified global health issues.
He also said that in the area of global health, various global strategies are being formulated to achieve a safer , healthier , greener , and fairer world, including revision of international health regulations (IHR) to prevent the international transmission of disease and 100DM (100 Days Mission), an initiative to create vaccines in 100 days and distribute them worldwide.
Second of all, he explained the "impact of COVID-19 (a mechanism to rapidly deliver new technologies and drugs to people)" on global health.
In the development of the COVID-19 vaccine over the past few years, major pharmaceutical companies in Europe and the U.S. were quick to incorporate seeds from venture companies and succeeded in bringing them to practical use through rapid clinical development, while Japan failed to take such an agile approach, which led to a significant lag in the development of vaccines and therapeutics, as well as a failure to make policy quickly based on data, and systematic weaknesses from R&D to commercialization became apparent, he said.
He also said that such health crises could trigger economic crises and lead to national security issues, so comprehensive international collaboration in the field of health and public health will be essential, as will resilience in response to crises.
Next, he described the Devil's Circle and Angel's Circle as the ecosystem of the Japanese pharmaceutical industry.
In order to turn the Devil's Circle, in which the market shrinks due to population decline, the will to innovate declines, new products are not released, the quality of medical care declines, and the population decreases, into an Angel's Circle, it is necessary to create a new social model through international expansion in response to shrinking markets and streamlining R&D through the international division of labor in response to less willingness to innovate, he said.
Finally, he explained the role of Public-Private Partnerships (PPPs) in the pharmaceutical ecosystem.
He explained that there are various types of partnerships, including GHIT FUND for R&D, Stop TB for TB awareness and education, Global Fund for financial support, and GAVi for supporting the procurement of medicines for low-income countries, and the role of each.
For example, GHIT FUND is Japan's first international PPP to promote product development for patients with infectious diseases in developing countries through Japanese technology and the benefits from the public sector include stable funding and established rule of law, while the benefits from the private sector include the ability to draw private investment with the public sector's share of funds and the utilization of private sector vitality and innovation capabilities, he said.
He said that the strategic use of PPP in the practical application of technology is valuable because synergies can be expected from such partnerships.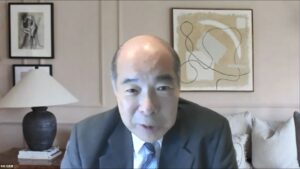 In this seminar, Prof. Nakatani gave us useful and valuable lecture on Present Analysis and Perspectives of PDP in Global Health and the seminar ended successfully with a large number of participants and a lively question and answer session.
The next seminar will be held on Friday, September 30, 2022, with Ms. Keiko Katsui from Japan Agency for Medical Research and Development (AMED) and Ms. Yukiko Nishimura from Asrid under the theme of "Patient and Public Involvement in Medical Research and Development: as a promotion of "Social Co-Creation" in AMED".
We look forward to seeing you at the next meeting.