(1st Seminar Report) Academia Clinical Development Seminar
"Innovation eco-system at Osaka University"
On May 27, 2022, we held the 1st Academia Clinical Development Seminar online, inviting Prof. Yasuo Kitaoka from Co-creation Bureau, Osaka University.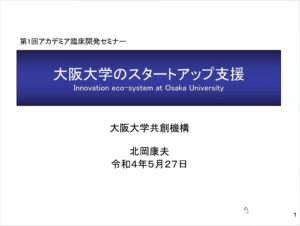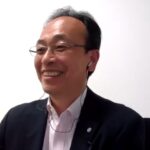 He was involved in research and development of DVDs and Blu-ray discs at Matsushita Electric Industrial Co., Ltd. (now Panasonic Corporation) before serving as a professor at the Frontier Research Center, Osaka University, and was engaged in the formulation of science and technology policy at the Ministry of Economy, Trade and Industry. He later served as a professor at the Continuing Professional Development Center, Osaka University and at the Office for University-Industry Collaboration, Osaka University.
Based on his extensive experience, he gave a lecture on innovation eco-system at Osaka University.
First of all, he explained about innovation.
He stated that innovation is the creation of social and economic value (customer value) by combining what already exists with new technologies and concepts, that is, it is essential to change people's lives and society by creating new technologies through university research and corporate development projects and developing products that people exactly need.
Second of all, he explained about innovation creation in the medical, dental, and pharmaceutical fields.
He said that pharmaceutical companies have recently emerged in the industry, and the medical, dental and pharmaceutical fields are important in the SDGs and the World Economic Forum. In particular, the faculty of medicine, which has an affiliated hospital, is an ideal environment for innovation, because physicians can directly listen to and grasp the issues that patients are facing, he said.
He also said that in the practical application of technology, it is important to understand the patents and intellectual property, feasibility, his/her own involvement in the venture, human resources (team building), necessary development funds, and social implementation (EXIT model).
Furthermore, for successful commercialization, it is important to consider the balance between feasibility and impact, and to refine the hypothesis regarding the business model and expected customers by repeating the process over and over again, he said.
Next, he described initiatives at Osaka University.
He said that since the introduction of the Osaka University UIC Gap Fund (2011), Osaka University Venture Capital Corporation was established (2014) and the Innovation Bridge Grant was created (2017), and the Innovation Division of the Co-creation Bureau, established in 2018, has been providing a wide range of support, including support for commercialization through venture startups, strengthening intellectual property strategies, and nurturing talent for innovation.
In addition, as an initiative unique to Osaka University, there are branch offices that provide support close to researchers, and the Suita branch office 1 in the Faculty of Medicine provides consultation services for life science-related issues, he said.
Finally, he explained about the support system for venture businesses and industry-academia collaboration in Kansai, including the Kansai Innovation Initiative and Supporting Creation of Startup Ecosystem in Startup Cities by the Japan Science and Technology Agency.
In this seminar, Prof. Kitaoka gave us the valuable lecture on innovation eco-system at Osaka University and the seminar ended successfully with a large number of participants and a lively question and answer session.
The next seminar will be held on Friday, August 5, 2022, with Prof. Hiroki Nakatani from National Center for Global Health and Medicine under the theme of "Product Development Partnerships (PDPs), current status and developments in global health: Will it leverage developments in healthcare in Japan?".
We look forward to seeing you at the next meeting.