(Report) Visiting to Bangkok
The global clinical research support group (GCRSG) has made significant strides in networking with leading global universities. On September 8, 2022, the group traveled to Bangkok, Thailand and obtained substantial agreements for collaboration on multiple ongoing GCRSG projects by Mahidol University-Ramathibodi Hospital.
GCRSG was also well positioned to support the expansion and implementation of outstanding clinical research by the pediatrics departments of Osaka University and Ramathibodi Hospital. On September 09, 2022, the team joined the members from Pediatrics, Osaka University Hospital for an in-person tour of the Ramathibodi Hospital Pediatrics indoor unit. During that session, GCRSG drafted a comprehensive strategy for medical students and trainees' observation exchange programs between the mentioned institutions to boost expertise in specific clinical areas.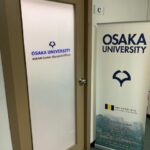 In addition, the team paid a visit to the Osaka University ASEAN Center office in Bangkok to share views on project expansion efforts in other ASEAN countries. The members also made brief stops at the overseas offices of other Japanese universities to review their policies on international collaboration.
The fruitful visit ended with a tour to a local pharmacy to inspect the existing regulations of the Thai health authorities on drug sales and the differences with those of the Japanese system. The team observed that antihypertensives, lipid-lowering drugs, and antibiotics are accessible to patients as over the counter (OTC) medications without prescriptions.
This was GCRSG's first overseas official tour since the outbreak of the COVID-19 pandemic, and it was a huge success. All GCRSG members are committed to going above and beyond to encourage and support the widespread expansion of high-quality clinical research.
Note: Our visit was introduced on the website of Mahidol University, Faculty of Medicine Ramathibodi Hospital.
https://www.rama.mahidol.ac.th/international/news/event/09192022-1334