The 6th Joint Conference Ramathibodi – Osaka University
We pleasantly inform you that we will hold the 6th Joint Conference with Mahidol University Ramathibodi Hospital, Bangkok, Thailand, titled "The 6th Joint Conference Ramathibodi – Osaka University ~ Cutting Edge Innovation on COVID-19 and Beyond ~"
We invite speakers not only from Japan and Thailand but also from Singapore and France, etc. The program covers wide range of topics such as researches on COVID-19, rare disease, dementia, collaborative study in the field of orthopedics between Thailand and Japan, and so on.
We are looking forward to your participation!
Date:November 29 (Mon) & 30 (Tue), 2021
Format of the conference:Online
Registration:
Please access to URL below and submit the application form.
https://docs.google.com/forms/d/e/1FAIpQLSdZtUrhAzisc-2cYx88Zpboz5tOGez_u6cdA5mX79--i58-rA/viewform
Registration Fee: Free of charge
Language: English
Topic: COVID-19 update
    Rare Disease
    New diagnostic tool for COVID-19 using AI
    Aging Society
    AMR
    Reports from Orthopedics research
    AUN-HPN
Program → Click here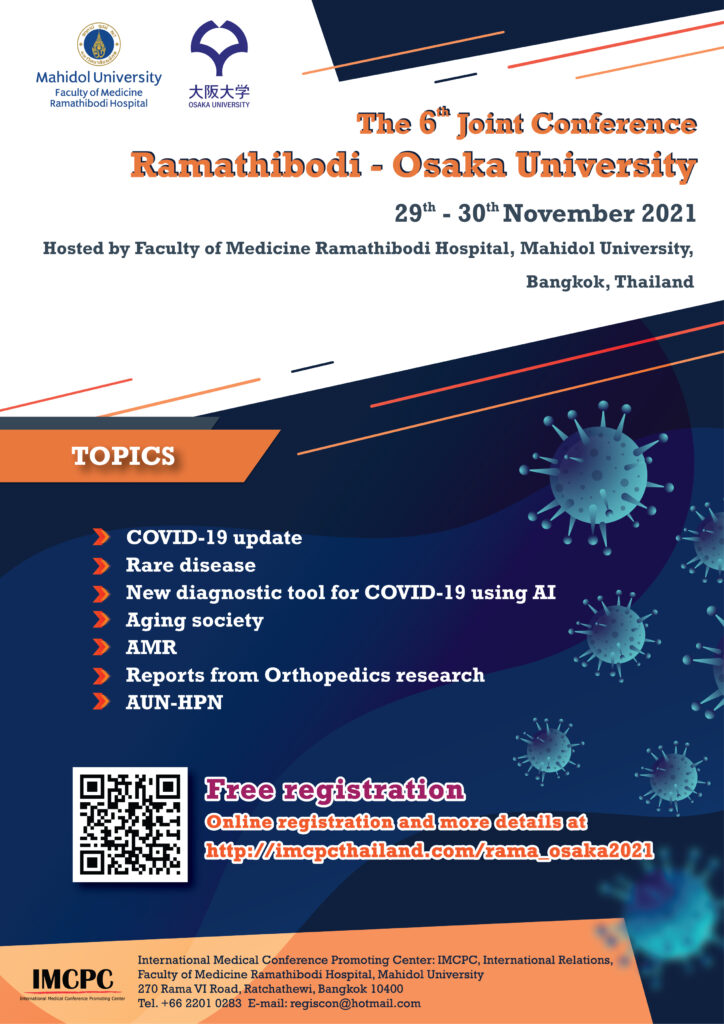 For more details, please access to URL below.
http://imcpcthailand.com/rama_osaka2021/
This is an annual joint conference between Mahidol University Ramathibodi Hospital and Osaka University Hospital. This year marks the 6th joint conference.