(4th Seminar Report) Academia Clinical Development Seminar
"The Actions against the SARS-CoV-2 pandemic from the perspective of the clinical development in the pharmaceutical company"
On November 19, 2021, we held the 4th Academia Clinical Development Seminar online, inviting Dr. Toshinobu Iwasaki, Senior Executive Officer, Senior Vice President of Drug Development and Regulatory Science Division, Shionogi & Co., Ltd.
Dr. Iwasaki has been involved in drug development, regulatory science and quality assurance at the pharmaceutical company.
In this seminar, he gave a lecture titled "the Actions against the SARS-CoV-2 pandemic from the perspective of the clinical development in the pharmaceutical company" based on his extensive experience.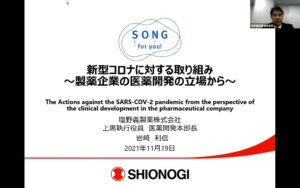 First of all, he explained about "COVID-19 vaccine development, focusing on a comparison between Japan with Europe and the US ".
Vaccines developed overseas are being developed at an astonishing speed, being commercialized in just over a year. For example, Pfizer in the U.S. started Phase 1/2 in April 2020, and Phase 2/3 were started at the time of the interim announcement about 3 months later. In December of the same year, an interim analysis showed 95% efficacy against symptomatic COVID-19, which led to the approval of an Emergency Use Authorization (EUA).
He explained that the background to this early development in the U.S. is (1) the implementation of Operation Warp Speed, a public–private partnership project for COVID-19, and (2) the development of a national system* and financial support for emergencies such as pandemics during normal times.
*: DARPA (Defense Advanced Research Projects Agency) and BARDA (Biomedical Advanced Research and Development Authority)
Furthermore, preemptive measures such as boosters, childhood vaccinations, and safety management by the FDA and CDC, etc. are being taken, he said.
On the other hand, in Japan, five companies have been developing domestically produced vaccines through industry-academia collaboration supported by Japan Agency for Medical Research and Development (AMED), but none have been commercialized yet.
He said that one of the reasons why domestically produced vaccines have lagged behind their overseas counterparts is because of the lack of preparedness for pandemics and other emergencies, and the existence of contingency plans and systems such as the EUA.
He also mentioned some of the existing issues, such as the risk of lawsuits in Japan, the business risk of losing business opportunities due to the convergence of infections, and the lack of public awareness about vaccination.
In order to make up for these delays, the "Strategy to strengthen vaccine development and production system" was compiled as a national strategy, and the Pharmaceuticals and Medical Devices Agency (PMDA) presented its approach to the evaluation of new coronavirus vaccines based on the direction that was globally agreed at the ICMRA (International Coalition of Medicines Regulatory Authorities).
He said that in this approach, the feasibility of clinical trials has become very high, because it was allowed to conduct comparative efficacy trials with previously approved drugs using neutralizing antibody titer as an endpoint instead of the conventional placebo-controlled prevention trials.
Next, he explained the development status of the recombinant protein vaccine " S-268019", which is being developed by Shionogi in an industry-academia collaboration supported by AMED grants.
He mentioned that they have completed Phase2/3 while resolving various issues specific to the vaccine development, such as difficulty in estimating the number of infected people, evaluation of formulations for efficacy in combination with adjuvants, evaluation of efficacy by decrease in antibody titer with time after inoculation, and reduction of the study population due to vaccination with other companies' vaccines, etc.
Based on the results of Phase 2/3, Shionogi is now considering a trial design for an active-controlled neutralizing antibody comparative study alternative trial.
In addition, special approval for COVID-19 treatment in Japan is being granted on the premise of overseas approval, and six drugs are currently already approved.
In Shionogi, Phase 2/3 of an oral antiviral drug (3CL protease inhibitor, IMP number: S-217622) that can cope with new mutant viruses and the next pandemic, and various efforts are being made for early approval.
For example, he explained the adoption of new clinical trial forms such as hotel clinical trials and home clinical trials with the cooperation of local governments.
Furthermore, in order to respond to changes in the infection situation in Japan, they are preparing to expand the clinical trials to South Korea, Singapore and other Asian countries to accelerate the registration.
Next, as for "Strengthening contingency response capabilities" from the perspective of national security, he explained (1) the necessity of domestically produced vaccines (stable supply, rapid countermeasures against mutant strains, international contribution) and (2) the need to prepare for infectious diseases in normal times.
He also explained the importance of industry-government-academia collaboration to address not only COVID-19, but also the "Three major infectious diseases", "Neglected tropical diseases" and "Antimicrobial resistance (AMR)".
In particular, it has been reported that the number of deaths caused by AMR will exceed the number of deaths caused by cancer in the future, and that this threat is a social issue that should be addressed on a global scale.
On the other hand, many companies have withdrawn from research and development in the field of infectious diseases due to the low predictability of profits, and the development of drugs for infectious diseases is shrinking worldwide.
Even in such an environment, Shionogi has been promoting research and development of "Cefiderocol", a new antibiotic against multidrug-resistant Gram-negative bacteria, which has already been approved in the US and Europe ahead of Japan.
Finally, as for "Can Japan compete with the United States?" "Can we innovate in Japan?" he explained that it is necessary to think about the innovation that can be done in Japan, including not only the system and cost, but also the sense of ethics, history, and social norms in Japan, such as the extent to which strong adverse reactions are really accepted, and the extent to which logistics investment is possible.
In this seminar, Dr. Iwasaki gave a lecture on the forefront information in the pharmaceutical industry regarding the development of COVID-19 vaccine and drugs, and there was a lively question and answer session.
The seminar was a great success with 105 participants.
The next seminar will be held on Friday, January 14, 2022, with Mr. Go Murayama of Qualtech Japan Consulting on the theme of "Development of Medical Devices in Asia."
We look forward to seeing you at the next meeting.