(Conference Report) 5th Global Clinical Trial Advanced and Planning Symposium
On February 24th, 2021, we conducted 5th Global Clinical Trial Advanced and Planning Symposium "Global Clinical Research in COVID-19 Era" online.
The theme of this meeting was "Global clinical research in COVID-19 era" in order to share information and discuss various efforts to respond to the urgent issue of COVID-19, as well as the issue that international collaborative clinical research and clinical trials in cancer and other non-communicable diseases should not be restricted under the influence of anti-pandemic measures.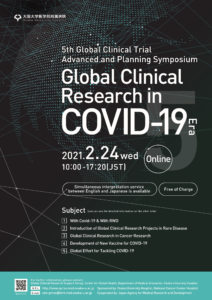 We invited experts from Japan and overseas who are playing a leading role in the fields to give lectures titled "With Covid-19 & With Real World Data" and "Introduction of Global Clinical Research Projects in Rare Disease" in Part1, "Oncology Clinical Trials in Asia" in Part2 and "New Vaccine Development for COVID-19" and "Efforts on COVID-19 in Various Countries" in Part3. In each session, the audiences were able to know about the forefront of their fields and had lively discussions.
The symposium was a great success with 220 participants.
We would like to make efforts to prepare for the next International Symposium for the Promotion of Collaborative Clinical Research so that even more people will be able to participate.