(6th Seminar Report) Academia Clinical Development Seminar
"Evaluation for Medical Devices including SaMD (Software as Medical Devices) "
On February 4, 2022, we held the 6th Academia Clinical Development Seminar online, inviting Dr. Noriatsu Kono from the Pharmaceuticals and Medical Devices Agency (PMDA).
Dr. Kono has extensive experience in the Ministry of Health, Labour and Welfare and the PMDA, including evaluation of pharmaceuticals and medical devices, and he gave a lecture titled "Evaluation for Medical Devices including SaMD (Software as Medical Devices) ".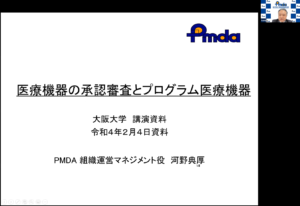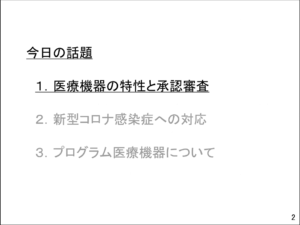 First, he explained about "Characteristics of medical devices and their evaluation".
He said that medical devices are different from pharmaceuticals in that research and development that meets the needs of the field and improvement/optimization in the field are considered extremely important, and that innovations are introduced so quickly that there are no established evaluation methods for them.
In addition, in the evaluation of medical devices, it is important to evaluate the balance between risk and benefit in efficacy and safety, and the clinical positioning of medical devices is an important factor in determining whether or not a clinical trial is necessary and in designing a clinical trial, he said.
Next, he talked about "Regulatory impact and response to COVID-19".
He said that according to the data on annual changes in "the number of clinical trial notifications for medical devices" due to COVID-19, no significant impact has been observed.
In addition, due to the increased demand for medical devices and in vitro diagnostics, including ventilators, caused by the COVID-19 pandemic, regulatory notifications were issued to expedite the evaluation process, set up a consultation service, and respond to the need for ventilators, etc., and efforts were made to ensure that necessary regulatory procedures were prioritized and processed as quickly as possible, he said.
He then explained about "programmed medical devices".
Programmed medical devices are expected to be the next generation of treatment that differs from conventional medical devices, and in Japan, the practical use of programmed medical devices is progressing, for example, a cognitive behavioral therapy application for nicotine addiction was approved in 2020, he said.
He also explained about the DASH for SaMD* (Digital transformation Action Strategies in Healthcare for SaMD), which is the government's initiative to evaluate programmed medical devices. *: SaMD: Software as a Medical Device
He said that this strategy was formulated to promote the early commercialization of advanced programmed medical devices through the early identification of seeds, the announcement of the concept of evaluation, the centralization of consultation services, and the establishment of an evaluation system based on the characteristics of programmed medical devices.
Lastly, he explained "Approaches to health issues according to life stages".
He said that the direction of medical research is based on the new concept of "medical solutions" that consciously address and solve medical issues specific to each life stage.
In addition to biological factors, many diseases are thought to be caused by environmental factors, lifestyle and to develop and become severe, and there are many unknowns at present about what risks accumulate and at what stage, he said.
He said that it is necessary to extract and organize such issues and provide integrated medical interventions, including not only pharmaceuticals but also prevention through engineering technologies such as AI.
In this seminar, Dr. Kono gave us useful lecture on medical device and programmed medical devices and the seminar ended successfully with a large number of participants and a lively question and answer session.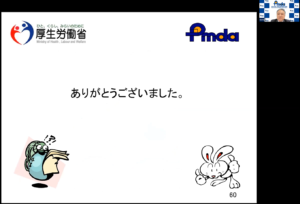 The next seminar will be held on Friday, March 11, 2022, with Dr. Kyoko Yoshioka from Research and Development Division, Health Policy Bureau, Ministry of Health, Labor and Welfare on the theme of " Revision of Clinical Trials Act and ethical guidelines ".
We look forward to seeing you at the next meeting.
For more information about the 7th Academia Clinical Development Seminar,
please click here (information only in Japanese)